NEWS
Click here to visit us on Facebook


July 5, 2012:
Foster dogs Laney, Dove and Ravens are ready for a forever home. Visit our Foster page and check them out!
April 1, 2012:
No Fooling!! Our new fosters are here! Please click on our foster page and take a look at our handsome new boys, Steven, Doc, and King. They are beautiful and ready for their forever homes. And don't forget Charlie who is still waiting.
February 4, 2012:
Come and visit us at the Belle Isle Casino this Saturday for
Shiver On the River on Belle Isle.
. Better yet, volunteer with your greyhound. The more the merrier!

Hello, and welcome to the website of the Michigan Greyhound Connection, Michigan's original greyhound rescue group. Established in 1989, we are a private, non-profit, volunteer-run organization.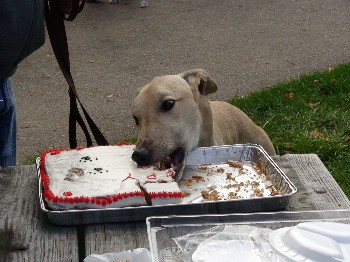 Michigan Greyhound Connection is committed to finding responsible and loving adoptive homes for retired racing greyhound dogs and educating the public about the inhumane treatment of these dogs by the greyhound racing industry.

In support of this mission, Michigan Greyhound Connection actively opposes organized greyhound racing and all associated activities that contribute to the death of thousands of greyhounds each year.

More information about greyhounds and the ongoing effort to end greyhound racing can be found on our Links page. While you're there be sure to check out the greyt shopping opportunities.